Brand guidelines
The brand guidelines below are developed to inspire and give the guidance needed to communicate LPI in a clear and unified way, both in writing, as well as through visual communications (photos, videos, infographics, promotional items etc).
Always contact our Global Communications department at communications@life-peace.org to ensure correct use of the guidelines (for example, if you are a partner, an editor, copywriter, photographer, videographer, printer or graphic designer).
Download all brand assets
---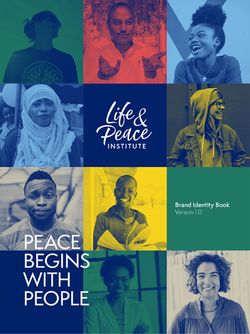 Brand book
The brand book contains guidelines for maintaining brand identity across all aspects of the business.
Download brand book
---
Logo
This is the logo that should always be used.
There are two versions to ensure optimum legibility.
Logo White
The white logo should be used on dark or busy backgrounds.
Logo Blue
The blue logo should be used on white backgrounds or white paper.
Download logo assets